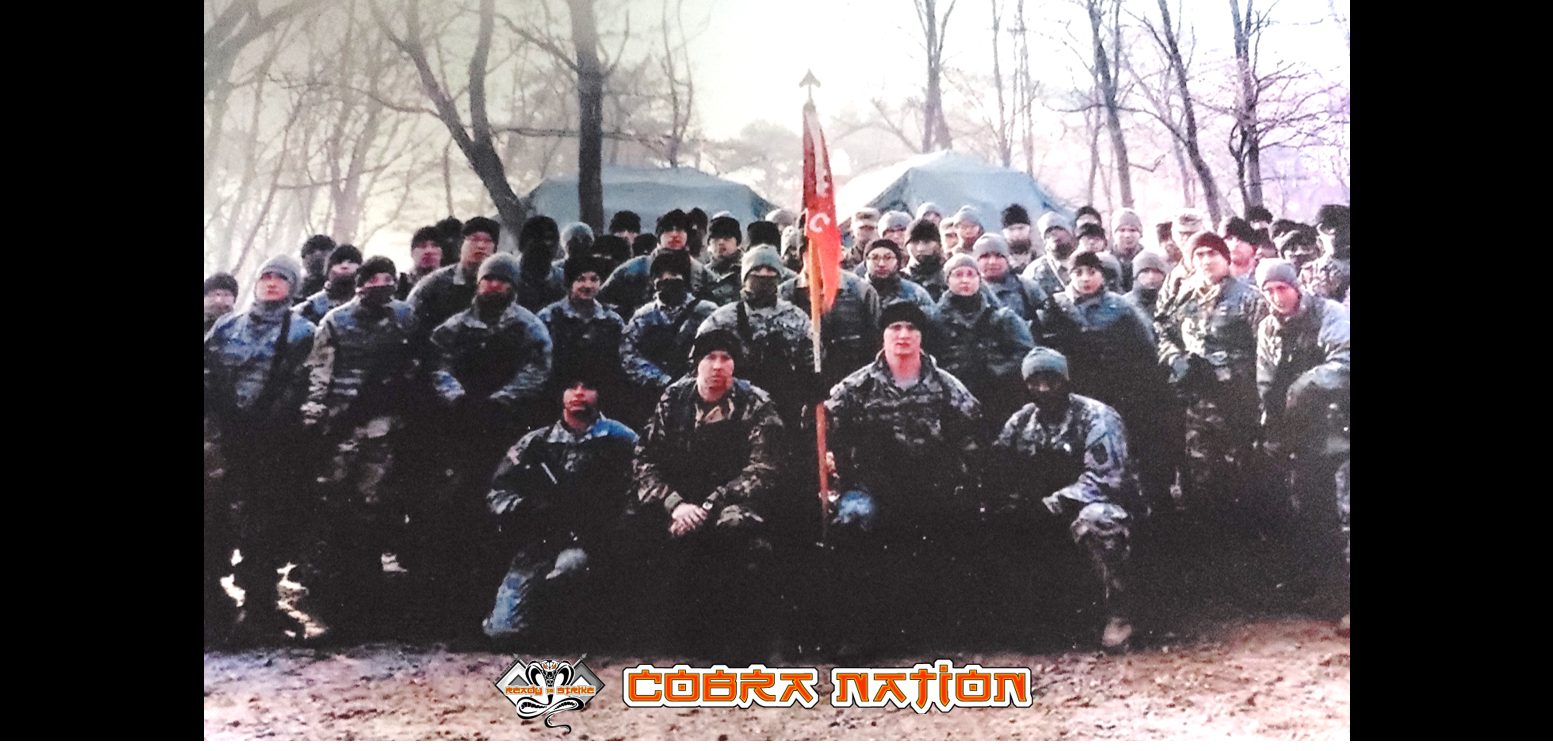 Leadership and Problem Solving
For an Army Officer there are few jobs as challenging and as rewarding as company command.  I was blessed to lead C Company, 304th ESB for a period of 18 months, serving alongside over 100 of the world's finest Soldiers.  Located just south of Seoul in the country of South Korea, the company was responsible for providing communication capabilities to the most remote areas of the country, working alongside our Korean partners in defense of their country.  As a self-sustaining company, I was charged with managing a host of all-consuming responsibilities: planning missions, creating training regimens, providing logistic support, managing vehicle maintenance, ensuring network security, increasing combat lethality, and, most importantly, taking care of my Soldiers.  In the sections below I outline a very small taste of the responsibilities and breadth of running a $33 million dollar communications company, and I relate the skills and experience I developed as a Commander to the design and development world.
AUG 2016 - DEC 2017 (18 Months)
Company Commander of C Company, 304th Expeditionary Signal Battalion in South Korea
Leadership, Military Mission Planning, Training Management, Information Technology Management, Project Management, Satellite and Line of Sight Communication Systems, and Public Speaking

Leadership at the Company Level

     I wasn't always an Army Officer.  In fact, when I began my Army career, I entered as one of the lowest ranks possible: a private first class.  For those that haven't experienced the military lifestyle, a young army private has two major responsibilities: 1) learning how to do their job, and 2) doing everything that no one else wants to do.  A young private learns their job, but also cleans offices and bathrooms, picks up trash around the building, and spends a lot of the day waiting around.  During these first years of my Army experience, I learned a lot.  I learned about leadership by watching good leaders and bad leaders.  I learned how young Soldiers think and act.  I also learned how to work hard and excel at every job I was given.  I quickly rose through the ranks to become a Noncommissioned Officer, and shortly thereafter I applied and was accepted for Officer training.
     My experiences as a young Soldier made me into a better leader.  Sharing a common experience with my Soldiers and studying leaders early during my career, made me a better leader.  I focused on serving my Soldiers, working and training alongside of them, and creating a culture with high standards where Soldiers trusted and cared for one another.  The technique worked, and it brought success to the entire company.  To be clear, I did not create organizational success by my own personal achievements, but instead by using my position to create an environment where my Soldiers could succeed.  But it wasn't easy.  It was a long, tough road that required personal discipline, extremely hard work, and a great team of junior leaders that bought in to my vision.
     As a commander I was working for 70-80 hours a week, and there was always more work to do.  It's impossible to get everything done, so you have to take the time to invest in people and build a team that you can rely on.  Alongside my First Sergeant, the senior enlisted person in the company, we tirelessly invested time in our junior leaders.  We taught young officers and NCOs the right way to do business, and we held them accountable for their actions, both good and bad.  We provided guidance, coordinated resources to help them be successful, and made time to mentor them.  That's where the success of the organization came from, taking the time to invest in others with mentorship and guidance.  
     I will refrain from sharing an acronym filled list of accomplishments that they created, but I will mention a few items to highlight the company's success.  During my time in command, I was rated as the number one commander, my First Sergeant was rated as the top First Sergeant, and my Executive Officer (XO) was ranked as the top XO in the battalion (higher command).  The company won the Chief of Staff of the Army's Supply Excellence Award for NETCOM (NETCOM is a parent organization consisting of over 16,000 people).  The company led the battalion in training stats and was technically proficient -- resurrecting two mission critical capabilities during my command.  These are just a few examples of what the leaders and Soldiers of the company accomplished.  The achievements are theirs.  All I did was build the team, invest in the people, and do my best to care for them like family.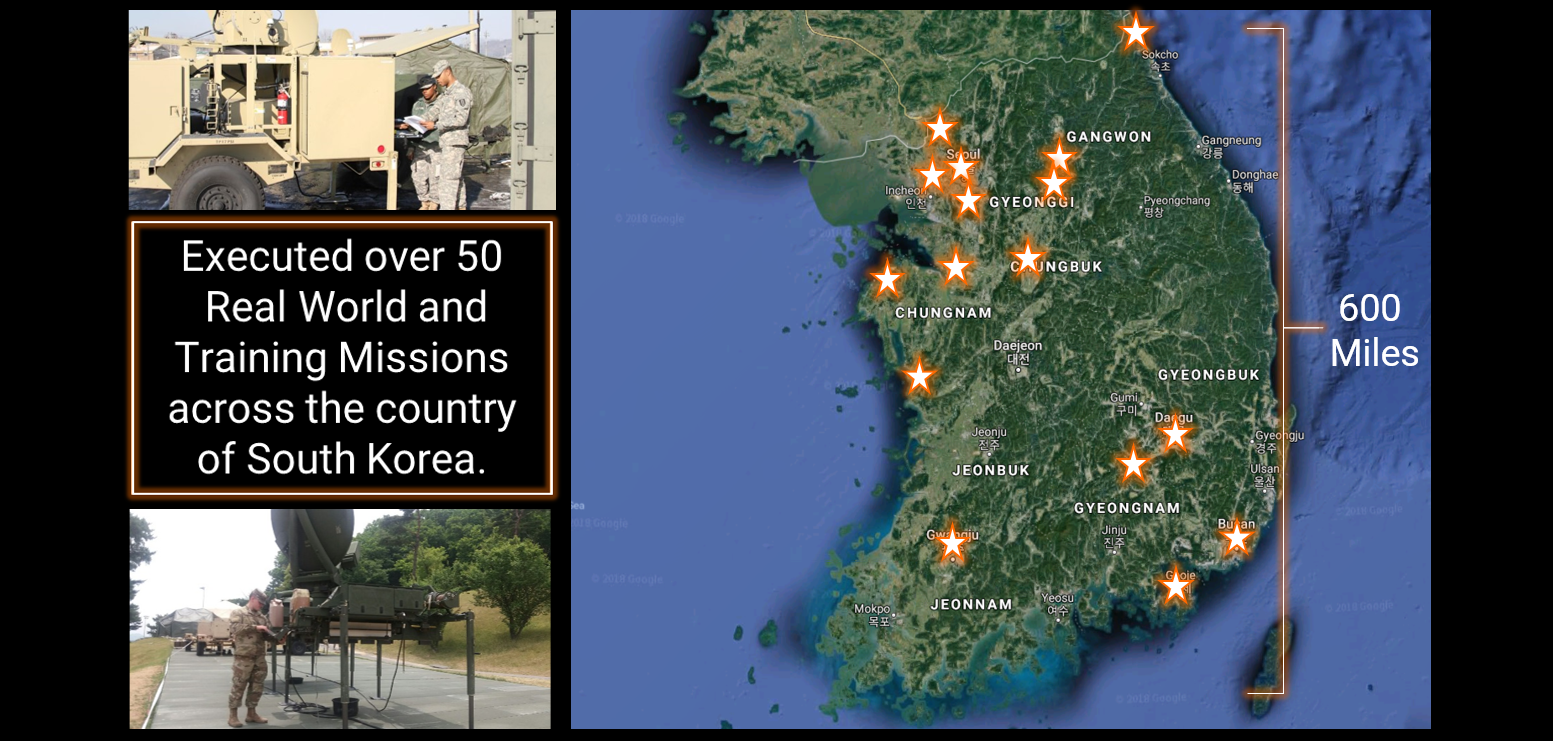 MAKING THE MISSION HAPPEN - NO MATTER WHAT
     "I will always place the mission first.  I will never accept defeat.  I will never quit.  I will never leave a fallen comrade."  These four lines come from the Soldier's Creed, which is learned by every Soldier in the Army.  The Soldiers of C Company placed the mission first every single day keeping South Korea safe from North Korean aggression and maintaining the armistice between the two countries.  I served as the commander during some of the most tumultuous times on the Korean peninsula, when tensions were at their highest due to the high tempo of North Korean missile testing throughout 2017.  It wasn't until the Olympics came to South Korea in early 2018 that diplomatic efforts began to ease the tension.
     The company was ready to complete its mission should war strike.  We had our equipment packed for war.  We were ready to launch teams to provide immediate communication support within a mere four hours of notification.  We were lethal with our weaponry and competent in our technical capabilities.  Our trucks were well maintained and mission ready.  Keeping a company prepared for war at any moment requires a mindset that the mission comes first.  If problems arose - gaps in the supply chain, unforeseen requirements for perimeter defense, enemy forces preventing communication - there was no help coming.  We had to find a way to make the mission happen.  And we were confidant that we would.  
SOLVING AMBIGUOUS AND COMPLEX PROBLEMS
     Military missions are never simple or straight forward.  Each and every one is a complex problem at a every level, even if the concept is simple.  I'll give you an example.  "Provide communication support to 'X' military unit at 'Y' time."  The concept is straightforward, but there is an absolute sea of ambiguity that exists below the surface.  At the company level, it often fell on me and my team to decipher what really needed to happen.  I learned to critically look at mission details, determining the questions I would need to have answered so that my Soldiers could do their job successfully and safely.  I learned how to think through the entire mission from beginning to end, envisioning what my Soldiers would go through and what challenges they may face.  And I learned how to bring in outside resources when the challenge exceeded our capability.
     "Where will our Soldiers sleep?  What would they eat?  How would they get fuel for equipment?  What happens if North Korea attacks while they are on this mission?  Where will they get ammo from?  How big is the military unit they are supporting?  How long is the mission for?  Where is our team linking up with the unit?  Will they jump to a new location after the mission starts?  What communication assets do they need?  Will they provide their own protection and security as they travel?  How well will their location be defended?"  These are just a sample of some of the questions and answers that are needed for a successful mission.  But we had to discover the information for ourselves, it's not provided to us.  We did our research and answered some questions.  Then we planned some more with the new information and came up with more questions.  Then we did it again and again, until we had the answers we needed, and we were confidant that our troops would have success. 
     Designing for user experience has a lot of similarities with mission planning.  At the start, you have a simple concept, or general idea of where you want to go.  And through an iterative cycle of research, designing, and testing you end up with a refined solution for the problem.  The major difference is that life and death doesn't sometimes hang in the balance during the design process.

Mission Planning as a Design Process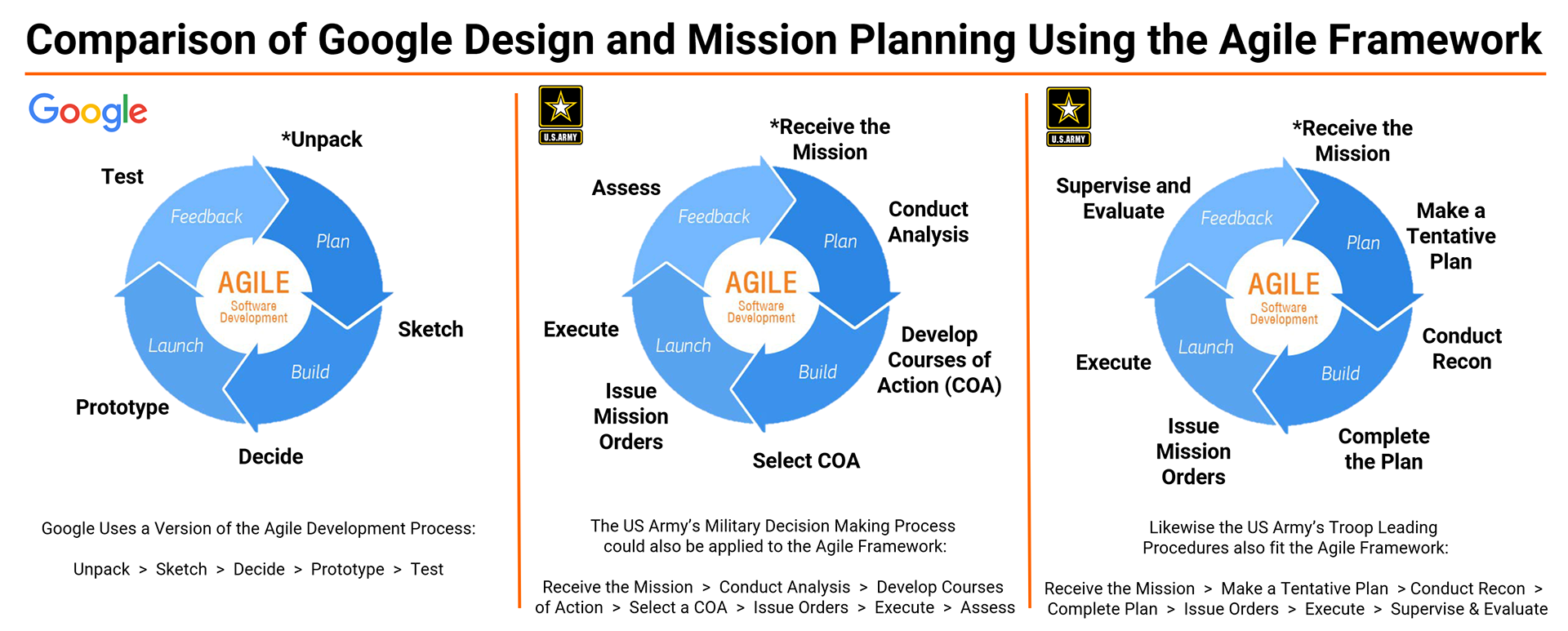 ITERATIVE DESIGN FROM A MILITARY PERSPECTIVE
     At the end of the last section, I spoke a little about how mission planning and designing have some similarities.  When you take a step back and look at the entire process, it's pretty amazing how well the military's two major planning tools fit into today's current methods for design.  I created the graphic above to highlight this fact, depicting Google's design process as well for reference.  The military decision making process (MDMP) is used for larger army units (350 people and above) where there is a staff that can devote time to planning in detail.  The troop leading procedures (TLPs) are used for smaller units, like my company.  As a company commander, I was heavily involved in mission planning and execution using both TLPs and MDMP.  Both of these processes are iterative and can fit the Agile Framework.  Please allow me to provide a little more depth by comparing Google's process and MDMP.  I will do my best to stay away from jargon.
DESIGN SPRINTS vs MISSION PLANNING AND EXECUTION
     Unpack = Receive the Mission & Conduct Analysis:  During this step, we receive a general idea of what our mission is.  We then discover all the context that surrounds it, everything from weather to possible enemy objectives to what our resources are that we can bring to the fight.  We understand the problem as much as possible.  This process is quite similar to discovering the user's needs, their context, design constraints, etc.
     

Sketch = Develop Courses of Action

:  Just as Google's team will sketch out a variety of possible solutions in lower fidelity, so does the Army.  In both cases, the team's cast their net wide, in order to come up with multiple solutions to work from.  These solutions are then fleshed out with enough detail that decision makers can make an informed decision for the direction the team needs to take.
     

Decide = Select Course of Action

:  In both cases, all options are considered, and then the decision is made on which to pursue.  A difference in the military is that this decision is often made by the commander with just input from the staff, whereas a design team may move towards a consensus instead.
     

Prototype = Issue Mission Orders & Execute

: This step is still similar in nature, but the details diverge a bit here.  For designers, the decision has been made to pursue one direction and the team can now prototype that solution.  In the same manner, for the military, the commander has made the decision and the staff will write a mission order for lower command levels before executing the mission.  Since most design teams don't have many additional design teams collaborating with them, the Army needs to take an additional step.  However, just as with the design team getting to work on prototyping, the military unit executes their mission.
     

Test = Assess

:  In both cases, the teams are focused on validating their work during this step, and they are ready to adapt or iterate their solution as necessary.  The Army continually monitors the mission as it unfolds, assessing the situation and preparing to react to enemy actions.  Likewise, the design team tests and validates, gathering information for the next round of iteration.
     The similarities between the two processes are striking, and differ in most places just in name and the professional field they are occurring in.  While I have never worked on Google's team
and I have just begun my UX journey, I am very experienced in both participating and
 leading teams that are
 involved in a very similar process.